If you like Ambrosia's Realm of Graphics, you can vote for it just by clicking on the Avatar button below.
Background and Sets
Here are just a few backgrounds for now. Click on the image to see how it will look on your page. Also, don't forget to take a banner so you can link back here.









All of the fonts and dingbats that I've used in my backgrounds and graphics can be found at Jnath's site. Just click on his banner below.

Free JavaScripts provided
by The JavaScript Source
And here are the banners to use to link to my page
at this address:
http://emergraphiks.tripod.com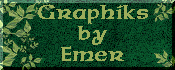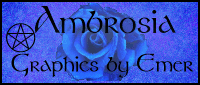 [Ambrosia's Index]
[Graphiks Index]
[Pagan Symbols]
[Banners and Bars]
[All Things Purple]